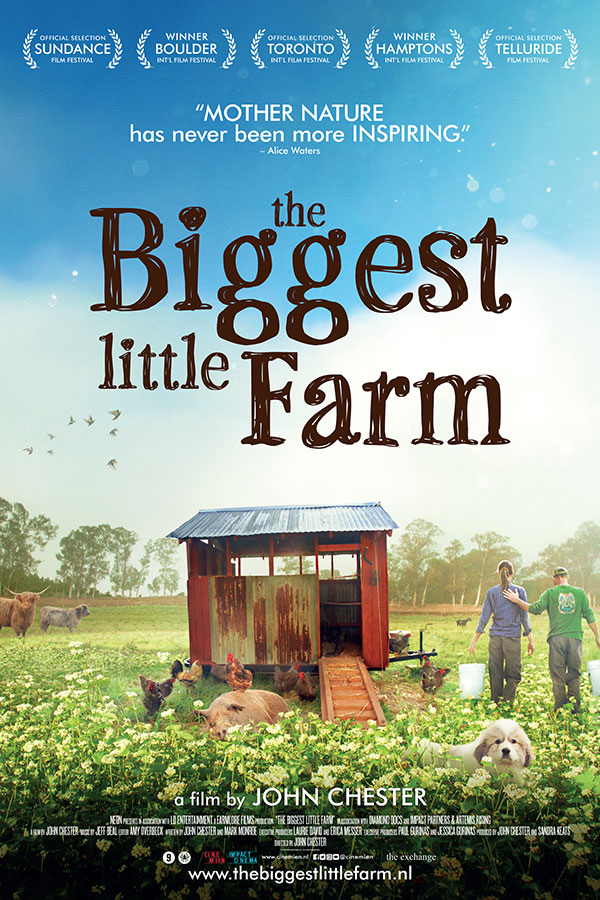 The Biggest Little Farm
Jaar:

Taal:

Keuring:

Speelduur:

91 minuten

Releasedatum:

Genre:

Distributeur:

Land:

Synopsis:

The Biggest Little Farm is een inspirerend verhaal over het verwezenlijken van je dromen. Een absolute eye-opener en een ode aan het idealisme, aan de eindeloze complexiteit van de natuur en aan de cyclus van het leven.

Filmkeuring:
Cast & Crew
Cast:

Nog geen cast ingevoerd.
Crew:

Nog geen crew ingevoerd.
Weekend boxoffice
| Jaar | Week | Weken | Rang | Recette | % Chg | Schermen | Gemiddelde |
| --- | --- | --- | --- | --- | --- | --- | --- |
| 2019 | 24 | 1 | 14 | € 56.346 | -- | 60 | € 939 |
| 2019 | 25 | 2 | 15 | € 33.451 | -40,6% | 64 | € 523 |
| 2019 | 26 | 3 | 18 | € 22.173 | -33,7% | 48 | € 462 |
| 2019 | 27 | 4 | 21 | € 23.826 | +7,5% | 50 | € 477 |
| 2019 | 28 | 5 | 17 | € 30.048 | +26,1% | 40 | € 751 |
| 2019 | 29 | 6 | 17 | € 24.308 | -19,1% | 38 | € 640 |
| 2019 | 30 | 7 | 22 | € 17.169 | -29,4% | 39 | € 440 |
| 2019 | 31 | 8 | 21 | € 19.371 | +12,8% | 30 | € 646 |
| 2019 | 32 | 9 | 23 | € 20.797 | +7,4% | 30 | € 693 |
| 2019 | 33 | 10 | 25 | € 20.318 | -2,3% | 30 | € 677 |
| 2019 | 34 | 11 | 26 | € 7.859 | -61,3% | 25 | € 314 |
| 2019 | 35 | 12 | 27 | € 8.081 | +2,8% | 20 | € 404 |
| 2019 | 36 | 13 | 28 | € 7.760 | -4,0% | 15 | € 517 |
Week boxoffice
| Jaar | Week | Weken | Rang | Recette | % Chg | Schermen | Gemiddelde |
| --- | --- | --- | --- | --- | --- | --- | --- |
| 2019 | 24 | 1 | 13 | € 76.920 | -- | 60 | € 1.282 |
| 2019 | 25 | 2 | 13 | € 51.464 | -33,1% | 64 | € 804 |
| 2019 | 26 | 3 | 17 | € 41.476 | -19,4% | 59 | € 703 |
| 2019 | 27 | 4 | 19 | € 44.138 | +6,4% | 49 | € 901 |
| 2019 | 28 | 5 | 17 | € 46.844 | +6,1% | 44 | € 1.065 |
| 2019 | 29 | 6 | 17 | € 32.879 | -29,8% | 30 | € 1.096 |
| 2019 | 30 | 7 | 21 | € 29.281 | -10,9% | 34 | € 861 |
| 2019 | 31 | 8 | 22 | € 29.981 | +2,4% | 30 | € 999 |
| 2019 | 32 | 9 | 24 | € 35.331 | +17,8% | 30 | € 1.178 |
| 2019 | 33 | 10 | 26 | € 27.801 | -21,3% | 26 | € 1.069 |
| 2019 | 34 | 11 | 27 | € 12.108 | -56,4% | 25 | € 484 |
| 2019 | 35 | 12 | 27 | € 13.865 | +14,5% | 25 | € 555 |
| 2019 | 36 | 13 | 28 | € 13.312 | -4,0% | 23 | € 579 |
| 2019 | 37 | 14 | 30 | € 7.813 | -41,3% | 23 | € 340 |
Boxoffice ranglijsten
2178

van

6942
24

van

547
14

van

361
1803

van

4200
131

van

409
118

van

301
73

van

240
1221

van

1422
946

van

2472