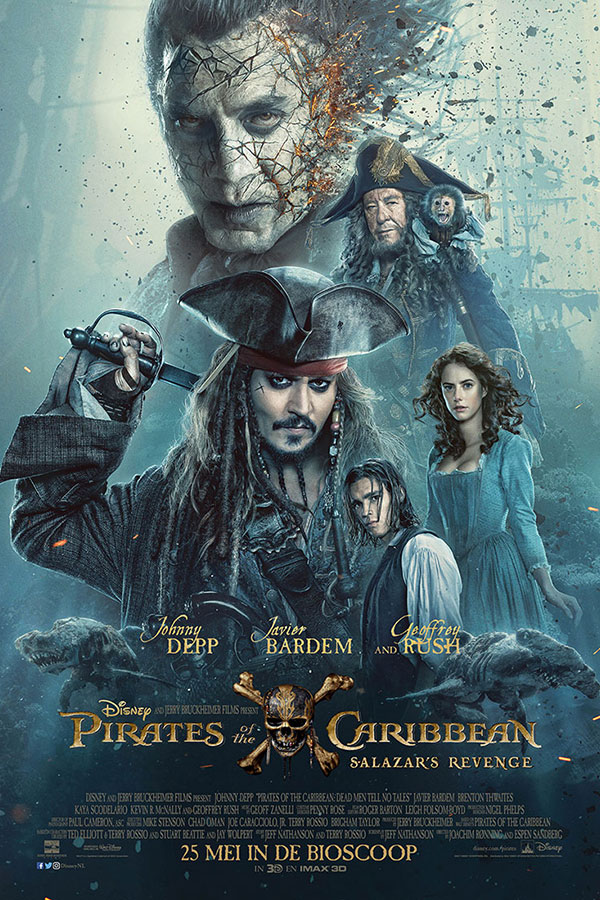 Pirates of the Caribbean: Salazar's Revenge
Alternatieve titel:

Pirates of the Caribbean: Dead Men Tell No Tales

Jaar:

Taal:

Keuring:

Speelduur:

129 minuten

Releasedatum:

Genre:

Distributeur:

Land:

Synopsis:

In dit nieuwe avontuur krijgt Jack Sparrow te maken met zijn aartsvijand kapitein Salazar. Wanneer alle spookzeelieden onder leiding van Salazar ontsnappen aan de Devil's Triangle hebben ze maar één missie: alle piraten doden, Jack in het bijzonder. De enige hoop op overleving ligt voor Jack in het legendarische Trident van Poseidon. Om die te vinden moet hij een alliantie vormen met Carina Smyth, de briljante en beeldschone astronoom en Henry, een eigenwijze jonge zeeman verbonden aan de Koninklijke Marine. Aan het roer van zijn bedroevend kleine en haveloze schip probeert Jack zijn leven te redden door uit handen te blijven van zijn meest geduchte en kwaadaardige aartsvijand.

Filmkeuring:

...
Weekend boxoffice
| Jaar | Week | Weken | Rang | Recette | % Chg | Schermen | Gemiddelde |
| --- | --- | --- | --- | --- | --- | --- | --- |
| 2017 | 22 | 1 | 1 | € 1.836.741 | -- | 174 | € 10.556 |
| 2017 | 23 | 2 | 1 | € 1.530.748 | -16,7% | 174 | € 8.797 |
| 2017 | 24 | 3 | 1 | € 842.816 | -44,9% | 174 | € 4.844 |
| 2017 | 25 | 4 | 2 | € 550.208 | -34,7% | 137 | € 4.016 |
| 2017 | 26 | 5 | 3 | € 504.755 | -8,3% | 137 | € 3.684 |
| 2017 | 27 | 6 | 3 | € 485.281 | -3,9% | 133 | € 3.649 |
| 2017 | 28 | 7 | 4 | € 256.964 | -47,0% | 133 | € 1.932 |
| 2017 | 29 | 8 | 6 | € 261.666 | +1,8% | 134 | € 1.953 |
| 2017 | 30 | 9 | 6 | € 189.854 | -27,4% | 127 | € 1.495 |
| 2017 | 31 | 10 | 9 | € 174.685 | -8,0% | 115 | € 1.519 |
| 2017 | 32 | 11 | 9 | € 131.114 | -24,9% | 111 | € 1.181 |
| 2017 | 33 | 12 | 12 | € 121.639 | -7,2% | 106 | € 1.148 |
| 2017 | 34 | 13 | 12 | € 101.151 | -16,8% | 95 | € 1.065 |
| 2017 | 35 | 14 | 15 | € 42.491 | -58,0% | 72 | € 590 |
| 2017 | 36 | 15 | 19 | € 32.464 | -23,6% | 57 | € 570 |
| 2017 | 37 | 16 | 24 | € 21.743 | -33,0% | 49 | € 444 |
| 2017 | 38 | 17 | 29 | € 12.232 | -43,7% | 29 | € 422 |
Week boxoffice
| Jaar | Week | Weken | Rang | Recette | % Chg | Schermen | Gemiddelde |
| --- | --- | --- | --- | --- | --- | --- | --- |
| 2017 | 22 | 1 | 1 | € 2.399.740 | -- | 174 | € 13.792 |
| 2017 | 23 | 2 | 1 | € 2.267.618 | -5,5% | 174 | € 13.032 |
| 2017 | 24 | 3 | 1 | € 1.063.623 | -53,1% | 174 | € 6.113 |
| 2017 | 25 | 4 | 2 | € 676.555 | -36,4% | 137 | € 4.938 |
| 2017 | 26 | 5 | 3 | € 688.928 | +1,8% | 137 | € 5.029 |
| 2017 | 27 | 6 | 3 | € 626.445 | -9,1% | 133 | € 4.710 |
| 2017 | 28 | 7 | 4 | € 407.292 | -35,0% | 133 | € 3.062 |
| 2017 | 29 | 8 | 5 | € 353.985 | -13,1% | 134 | € 2.642 |
| 2017 | 30 | 9 | 6 | € 297.989 | -15,8% | 126 | € 2.365 |
| 2017 | 31 | 10 | 9 | € 252.908 | -15,1% | 115 | € 2.199 |
| 2017 | 32 | 11 | 9 | € 214.960 | -15,0% | 111 | € 1.937 |
| 2017 | 33 | 12 | 12 | € 176.895 | -17,7% | 105 | € 1.685 |
| 2017 | 34 | 13 | 12 | € 129.244 | -26,9% | 95 | € 1.360 |
| 2017 | 35 | 14 | 16 | € 59.698 | -53,8% | 73 | € 818 |
| 2017 | 36 | 15 | 20 | € 40.414 | -32,3% | 58 | € 697 |
| 2017 | 37 | 16 | 25 | € 27.526 | -31,9% | 50 | € 551 |
| 2017 | 38 | 17 | 30 | € 13.971 | -49,2% | 27 | € 517 |
Boxoffice ranglijsten
33

van

6079
12

van

929
28

van

801
21

van

472
6

van

1773
4

van

106
31

van

3804
3

van

245
3

van

277
23

van

2314
onbekend
28

van

3259
26

van

2181