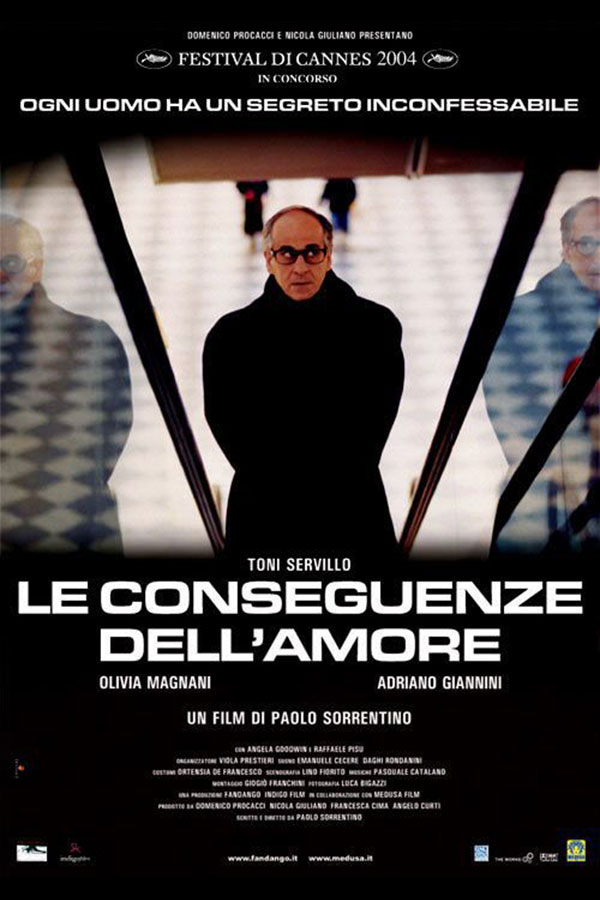 Le conseguenze dell'amore
Alternatieve titel:

The Consequences of Love

Jaar:

Taal:

Keuring:

Speelduur:

1 uur 40 minuten

Releasedatum:

12 mei 2005

Genre:

Distributeur:

Land:

Synopsis:

Titta Di Girolamo heeft een geheim, maar niemand weet wat dat geheim is. Hij leeft in een hotelkamer en heeft een strak regime om de dag door te komen. Wat heeft deze schijnbaar eeuwig eenzame man te verbergen?
Weekend boxoffice
| Jaar | Week | Weken | Rang | Recette | % Chg | Schermen | Gemiddelde |
| --- | --- | --- | --- | --- | --- | --- | --- |
| 2005 | 20 | 1 | 12 | € 20.648 | -- | 12 | € 1.721 |
| 2005 | 21 | 2 | 13 | € 13.264 | -35,8% | 12 | € 1.105 |
| 2005 | 22 | 3 | 12 | € 7.948 | -40,1% | 12 | € 662 |
| 2005 | 23 | 4 | 14 | € 13.222 | +66,4% | 12 | € 1.102 |
| 2005 | 24 | 5 | 15 | € 10.299 | -22,1% | 12 | € 858 |
| 2005 | 25 | 6 | 17 | € 4.856 | -52,8% | 11 | € 441 |
| 2005 | 26 | 7 | 19 | € 5.328 | +9,7% | 12 | € 444 |
| 2005 | 27 | 8 | 18 | € 8.798 | +65,1% | 11 | € 800 |
| 2005 | 28 | 9 | 20 | € 3.628 | -58,8% | 9 | € 403 |
| 2005 | 29 | 10 | 18 | € 4.363 | +20,3% | 10 | € 436 |
| 2005 | 30 | 11 | 19 | € 7.412 | +69,9% | 8 | € 926 |
Boxoffice ranglijsten
3323

van

7808
1393

van

4290
438

van

871
543

van

1252
43

van

371
25

van

142
108

van

276
103

van

276
1294

van

2889
1064

van

2297
2025

van

3992
1444

van

2835
262

van

713